EXPLORATION


Izabelle Girard
Steve Forest
Iris Debauve
May C
Le Centre de jour St-James

This part of the event is open to citizen artists who present their work free of charge and whose approach and intent dovetail with the mandate of État d'Urgence.
Izabelle Girard
At irregular times


Izabelle Girard lives and works in Chicoutimi. She holds a Bachelor's in Visual Arts from the Université du Québec en Outaouais and has studied visual communication at the Institut d'arts visuels d'Orléans, in France. Her work and aesthetic are a commentary on her social outlook.

"I plan to undertake an exploratory photographic project, and establish a bond with homeless women through various creative workshops involving drawing, painting, writing... I invite women to express themselves, to let themselves simply be. If they allow me, I would like to make a recording of any life experiences they wish to share, or it could take the form of a song or a poem they've written."
Steve Forest
Offers his services as a public writer November 21, 22, 23 from 5 to 8 PM and November 24 and 25 from Noon to 3 PM


"I am a traveller, a nomad. I have travelled the world on my bike and have made many peregrinations on cross-country ski. I understand what homelessness is, for I have experienced it myself for a good part of my life."

Iris Debauve
At irregular times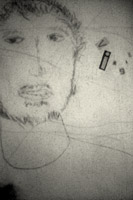 A self-taught visual artist, she has participated in various drawing and writing workshops. She blends the written word and the curves made by her pencil into a "portrait," a map of sorts. To her, the lines of the hand are raw material to be worked and used to construct a "landscape." An interior one, a landscape of the soul. Faces, bodies and words are "landscapes" within the landscape of the city. One can lose oneself in one's interior landscape just as in the urban landscape.

May C
At irregular times


Painter, sculptor and contributor, she is the mastermind behind La Roue de La Destinée (wheel of destiny), a free-form sculpture workshop relying on intuition and the expression of the present moment. You are given a wheel—the universal symbol of man's motion and a reminder of the cycle of life on Earth—and recyclable materials (tin cans, and others) with which to sculpt. Each element takes on a new meaning and energy as it enters the cycle of transformation. The wheel thus becomes a symbol of infinite renewal and creative rebirth.
Le centre de jour St-James
November 22 and 25 from 1 to 3 PM

The St. James Drop-In Centre helps homeless men and women or those having lived on the streets. The Drop-In Centre's artists are proud to participate as a collective in the 8th edition of État d'Urgence. They will collectively design and create a large curtain that will serve as the backdrop for the Grand Banquet Cochon! As well, some of their works will be shown under the big top. Come see them!



Painters at Centre de jour St-James - photo : Martin Savoie