THANKS FOR THESE GREAT 4 DAYS!
LE TEMPS D'UNE SOUPE:
ATSA and LA NUIT DES SANS-ABRI MEET THE CHALLENGE SUCCESSFULLY!
Despite the bitter cold, we enjoyed ourselves, witnessed tremendous generosity, made new discoveries and experienced human warmth!
746 people participated in Prendre...Le Temps d'une Soupe, with 347 encounters documented!
To find out more about the event...
From October 15 to 18, restaurateurs, hundreds of businesses, artists, care providers, politicians, street people, celebrities and the general public all filled Place Émilie-Gamelin, in solidarity with the homeless!
All these people mingled and helped one another out in order to be part of an experience that took us out of our humdrum reality, encouraged a greater show of compassion, pushed us to be better people, and reminded us that, in the end, we are all meant to live with one another.
Here's hoping that these 4 days provide us with beautiful memories to get us through the winter... and remind us to offer one another a smile when our paths cross!
We offer you this PHOTO GALLERY to help you relive the highlights of Le Temps d'une Soupe, and also as our way of saying THANK YOU!
PORTRAITS TAKEN DURING THE PRENDRE...LE TEMPS D'UNE SOUPE INSTALLATION WILL BE PUBLISHED FOR CHRISTMAS!
---
LE TEMPS D'UNE SOUPE SUPER SPECIAL FOR THE HOLIDAYS... SOUP BOWLS and DISHTOWELS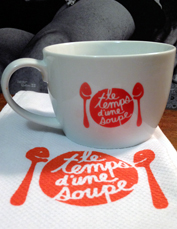 Here they are! We got them just before the event started and were unable to really promote them.
For the Holidays, here is something super special! Think of us for your Christmas gift-giving, with these items perfect for your homemade soups and the bowl-washing that follows!
1 ITEM for $10
2 ITEMS FOR $15
Available at 4432 Drolet from Monday to Thursday between 9 a.m. and 5 p.m., or by appointment when you dial 514-844-9830.