---

- CUISINE Ta ville 2023
- la montagnarde
- cuisine ton quartier canada
- projects throughout the year
ONE-TIME | MONTHLY INSTALLMENTS

OR by box mail, sending a check : ATSA, 4430 rue drolet Montréal, QC H2W 2L8
What your donation will allow us to achieve?
- Cuisine ta ville 23, a fourth and expanded edition that will offer you not 4 but 10 days of innovative programming on the Place des Festivals in May 2023!
- La Montagnarde: The opportunity for multidisciplinary, multigenerational, genre and cultural artists to renew their practice, far from the hustle and bustle of the city.
- Cuisine ton Quartier podcasts touring Canada with the addition of 10 French-speaking destinations over three years, for a total of nearly 150 episodes!
And the freedom to surprise you all year long with projects that respond to current events, as we did with de Plain-pied and our petition against excessive real estate speculation.


Cuisine ta Ville 2021 © ATSA - Photo de JF Lamouereux
Make your donation :
OR by box mail, sending a check : ATSA, 4430 rue drolet Montréal, QC H2W 2L8
*A non-profit organization holding charitable status in 2010, ATSA issues charitable receipts for all donations of $ 20 or more.
OBJECTIVE 25 years of ATSA !
GOAL : $25 000
« Pierre's passing on November 25, 2018 was a shock to all of us. He told me to trust me. For four years now, it is with your help and with all my energy and that of my wonderful team that every day we want to continue to denounce indecency and scream the beauty of the world, and make each burst of creation, a moment of human strength that lifts us up, a total art. » Annie Roy, co-founder of ATSA


Your donation supports :

- Significant creations offered free of charge in the public space
- The work of hundreds of artists who are critical of the society in which we live
- The promotion of a society that respects the planet
- Events that involve and value civil society in all its diversity
FOR ALL THESE REASONS: PLEASE DONATE!
THANK YOU FOR YOUR PRECIOUS SUPPORT!
---
Thanks to your involvement we were able to achieve:
Cuisine ton Quartier 2022 © ATSA - Photo de Betty Bogaert
Cuisine ton Quartier : des parcours à saveur humaine : was launched in three new boroughs in Montreal: Anjou, Verdun and LaSalle. The testimonies of immigrants, community organizations, social workers, members of the host society and committed artists from these three boroughs were collected and signs with a QR code were installed in three new parks: Goncourt Park in Anjou, Ménard Park in LaSalle and Arthur-Therrien Park in Verdun. 36 new interviews were added to the 82 existing ones.
Thank you to CIBL radio for broadcasting the whole thing to Montreal podcasts!
Cuisine ton Quartier Sudbury 2022 © ATSA - Photo de Bennett Malcolmson
Cuisine ton Quartier expanded the project's horizons by developing it in Francophone communities across Canada. The project was implemented in Winnipeg, Manitoba and Sudbury, Ontario. 19 participants spoke about their journey and issues as Francophone immigrants in Canada.
To date, 137 interviews have been conducted and can be heard on our dedicated website as well as on recognized listening platforms.
Cuisine ton Quartier Verdun 2022 © ATSA - Photo de Betty Bogaert
With the collaboration of the company Ample Man Danse, ATSA set up the project Dérivations, an intimate moment of improvisation and dance composition between a passer-by and a performer from Ample Man Danse, created in a public place from different stories of immigration and citizen actions from the podcasts Cuisine ton quartier.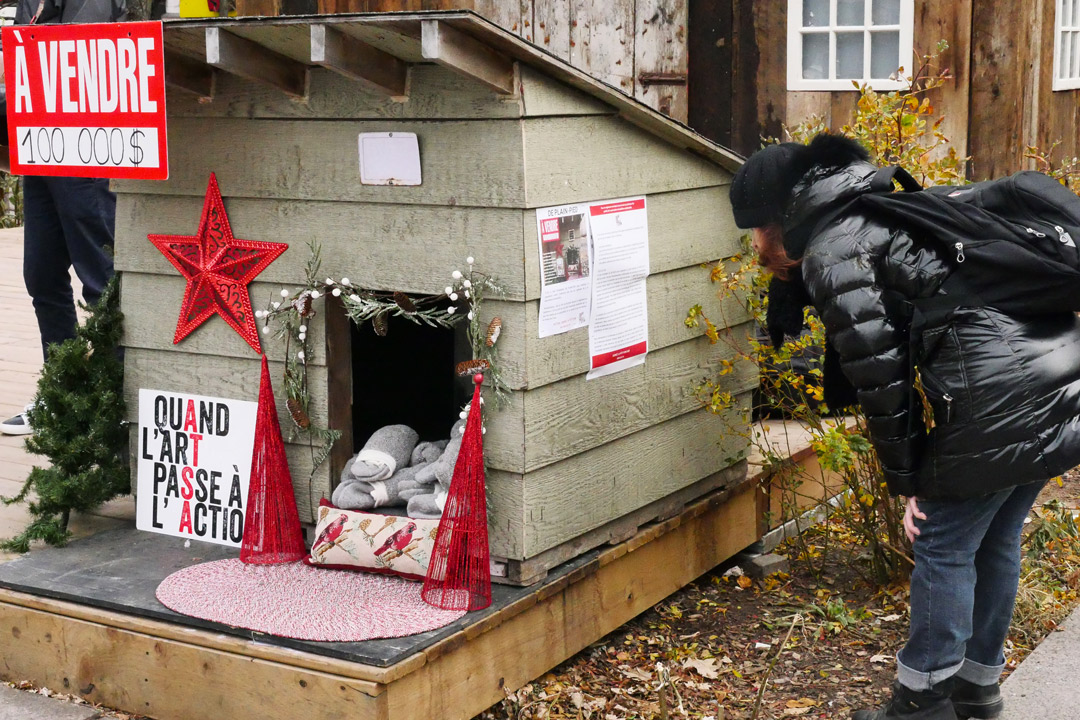 De E PLAIN-PIED - Place Émilie-Gamelin 2021 © ATSA
De Plain-pied, a work by Annie-Roy was launched on November 25, 2021 to commemorate the passing of ATSA co-founder Pierre Allard. This day was also an opportunity for the organization to distribute warm socks to the homeless, in continuity with États d'Urgence. It was then exhibited at Place Émilie-Gamelin during the Christmas in the Park 2021 event, as well as at the Économusée du Fier Monde during the Galerie Jean-Tal exhibition presented by Infoman.
At the same time, ATSA launches and deposits a petition against real estate speculation at the Salon Bleu of the National Assembly of Quebec.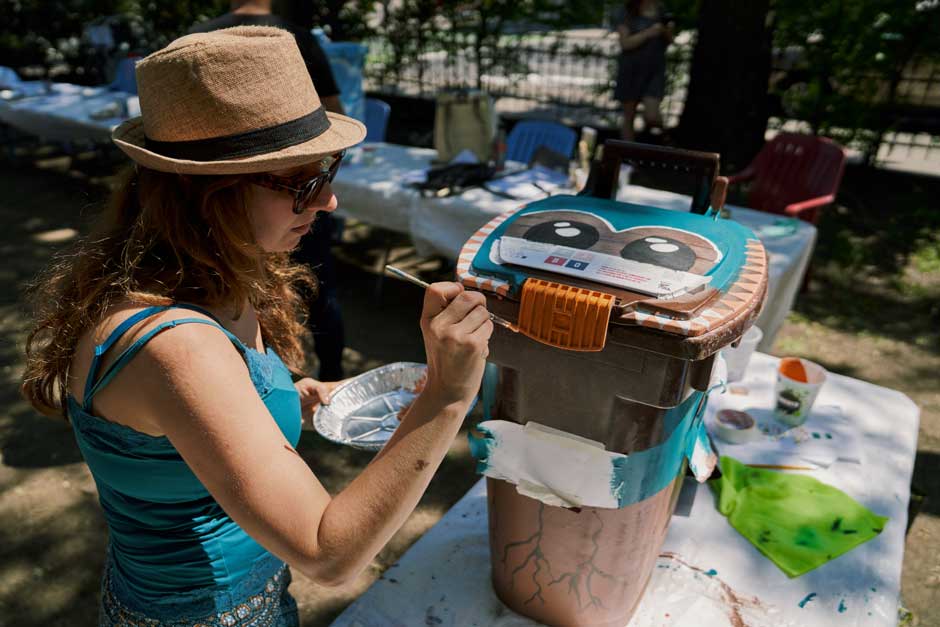 CABO Verdun 2022 © ATSA - Photo de Betty Bogaert
CABO (Club des Amoureux des Bacs Organiques) presented a second edition in the Verdun Borough, in partnership with Quai 5160 - Maison de la Culture de Verdun. 7 original works were created live on organic bins by visual artists and an information kiosk on composting was offered to the public in order to raise awareness on the importance of composting. The bins were on display at Pier 5160 from June 20 to July 25.
Thanks to your generosity, we were able to raise $18,605. Thank you for encouraging us to continue to bring meaning, art and peace to public space!