---
ACTIVATIONS
This part of the programming involves artists whose works are activated through the direct involvement of the public. There is a constant interaction between the public and the works, and the works are deployed over a lengthy period of time. Be an active player in these activations, which are designed for you and made possible thanks to you.
LE RADIS FISCAL by ATSA, When Art Takes Action (a new work)
Thursday at 6 p.m., at Place Émilie-Gamelin. Featuring the Voix Ferrées vocal ensemble, which will perform Fauré's In Paradisum, for a moment of pure grace!
A fable, minus the fantasy! Just like Tax Havens, the Radis Fiscal (literally, "tax radish") is an insatiably voracious beast. An expression of man at his manipulative worst, it shirks and denies its responsibilities to the society that supports it and enables its very existence by providing it qualified labour, infrastructures and services. It has made a mouthful of all the small radishes in its path, holding them prisoner in its belly, suspended over our heads, proud of its supreme power and its ability to deplete the common good to a critical point, the annihilation of basic human rights. But on November 16, at Montreal's Place Émilie-Gamelin, an extraordinary event will take place: the Radis Fiscal shall be destroyed in its own right, mocked in the public square, and all the small radishes so vital for our survival will once again resume their role in an economy that is at the service of the people and their territory.
Under the Exchange Bank tent: taking of "Radis" selfies, to be sent to Ministers of Finance Bill Morneau and Carlos J. Leitão.
Creation: ATSA, When Art Takes Action
Big Radis by: Alex Jenkins
Radis selfies: Cocotom
LOOP-S OPEN OUTCRY_DÉSORCELER LA FINANCE
Place Émilie-Gamelin
Belgian artist Luce Goutelle and her company Loop-s (in its first visit to Québec), in an adaptation of its latest performance work Open Outcry (a ritual for undoing the stranglehold of finance), presented during Brussels' Nuit Blanche this past October. From the money market to the real estate market to the energy market, not one stock market is let off the hook! At the intersection of magic ritual, theatre and political action, Open Outcry seeks to rally citizens to the cause of instituting other models for wealth generation and distribution.
Place Émilie-Gamelin |
- Design of the rituals: November 13 to 16 | Place Émilie-Gamelin
- Transmission with the artists: November 16 to 18 from 1 to 4 p.m.
- Activation of the rituals: Thursday, November 16 at 6:30 p.m. | Friday, November 17 at 6 p.m. | Saturday, November 18 at 6:30 p.m.
[ Photo : Beata Szparagowska ]
J'TE PASSE UN SAPIN + SURVIVAL KIT WITH THE J'TE VIDE LES POCHES STRATEGY
Thursday, November 16 at 5 p.m. to Sunday, November 19 at 9 p.m. | Time to be confirmed
Maggy Flynn creates relational performance spaces as a pretext for creating encounters. Her mission is to address the real and sometimes quite profound issues in our daily lives, with a healthy dose of absurdity and playfulness. People can participate to the degree they wish to. For État d'Urgence 2017, she offers two actions, each using her office/truck. The first, J'te passe un sapin, offers a free "swindling" service with multiple scenarios, while also relating, in a loop, stories of fraud, using megaphones positioned on the roof of the truck. With the second, J'te vide les poches ("I'm emptying your pockets"), participants are invited to enter the truck one by one to empty their pockets, thus providing a glimpse of what their daily survival kit consists of.
[ Photo : Dare Dare ]
INSOLVABLES (a new work)
Thursday, November 16 at 5 p.m. to Sunday, November 19 at 9 p.m. | Time to be confirmed
Dressed in a textile creation by Julie-Vanessa Tremblay (a member of seamstress cooperative Minuit moins cinq), Sara Dignard will ask the people who cross her path to confide in her about what they would like to save; what they would be ready and willing to do to ensure the survival of the planet; and what they hold most cherished. But above all, she will exhort them to save what can be neither purchased nor sold nor bargained. The secrets thus confided will be placed in the pockets of the reinvented quilt. The final work will be on display at the Banquet Cochon, and some of the secrets will be shared.
Sara Dignard was born in a rural region, but raised in Montreal. Threads of tension extend from one territory to the other and link them. Our collective memory and voice serve as anchors in all those spaces where citizens meet and exist beyond the grip of fear.
Sara Dignard, projet ideation and poetry; Minuit moins cinq and Julie-Vanessa Tremblay, textile creation.
To find out more: https://saradignard.wordpress.com/
[ Photo : Aurore Derout ]
HOUSE OF CARDS

Activation Thursday, November 16 at 5 p.m. to Sunday, November 19, at 9 p.m._Sidewalk along Sainte-Catherine St.

Emmanuel Laflamme recycles popular imagery with humour, creating scenes with strong meaning that lead us to smile and think. Like the surrealists, he develops representations with an apparent impossibility that captures the viewer's attention. He creates his works like a creative director who would have nothing to sell. Combining cultural references, he diverts ancient and modern myths to serve us his perspective on the world, at once tender and critical. The absurd is his playground, the anachronism his specialty.
Emmanuel was born in 1984 in Montreal. A self-taught artist, he worked as a designer on animated series and has been involved with the advertising, movie and gaming industries.
To find out more: http://www.emmanuellaflamme.com/
[ Photo : Félix Renaud ]
LE TEMPS D'UNE SOUPE
Thursday, November 16 from 5 to 9 p.m.
Friday 17, Saturday 18 and Sunday 19 from 3 to 9 p.m.

ATSA, When Art Takes Action presents an edition of this popular relational installation that is devoted to tax shelters. Passersby are invited to spontaneously form pairs with perfect strangers and hold conversations about how tax evasion affects us collectively. Our "maître d' " gives each pair of participants a special "Tax Inequity and Lax Legislation" menu of conversation starters. The experience is capped with the creation of a poetic portrait of the duo, and all the portraits are later presented to the public through a slide show.
To date, Le Temps d'une Soupe has produced 2,033 poetic portraits in Montreal, France, Austria and England.
To find out more: http://www.atsa.qc.ca/le-temps-d-une-soupe-en-tournee


[ Photo : J. F. Lamoureux ]
EXEKO

Three artists will reactivate their offerings with the public at Pas d'Radis Fiscaux.
FRUITS DU JOUR_le 16 novembre_18h à 21h_ Chapiteau With One Voice_Rue Ste-Catherine

Artist Soufia Bensaid will invite passersby to write, on a small coloured flag, about something they like; the flag will then be hanged from a clothesline. Over the days, the flags will form a mosaic of positive thoughts, cathartic confessions and multicultural reflections accessible to all.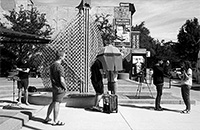 S'IL ÉTAIT UNE FOIS, Florianne Davin_le 17 novembre_14h à 17h_Chapiteau Coopérative_Place Émilie-Gamelin

Participants are asked to take turns contributing to a collective short story (known as a cadaver), true or fictional. Each person contributing a portion of the story knows nothing about the rest of the story, except for the preceding sentence. It is recommended that participants formulate their sentence with a possible development in mind, and such that a coherent story takes root. Care must also be taken with verb tenses, so that the story unfolds in a coherent chronology. If necessary, subject pronouns or verb tenses may be modified by the moderator. Participants may write and speak in the language of their choice; if this is other than English or French, they must provide a translation of their sentence into one of these two languages.
CARTOGRAPHIE SOCIALE_le 19 novembre_14h à 17h_Chapiteau Coopérative_Place Émilie-Gamelin

Emmanuelle Jacques uses cartography as a pretext for getting people to talk about where they live. She will put at the public's disposal a series of maps and stamps she has drawn and engraved herself, and invite participants to indicate the paths they take every day, the places they frequent, those that have disappeared, and those they cherish, dream of visiting, or avoid altogether. The intent is to discover the intimate links between citizens and the territory they live in. Often, very personal stories emerge, weaved into local geopolitics, with memories, frustrations, dreams and encounters. There is something spontaneous and compulsive in the act of engraving, something that hearkens back to childhood and is conducive to the creative act.
[ Photos : Exeko ]
---
PERFORMANCES AND LIVING ARTS

LOOP-S OUTCRY_DÉSORCELER LA FINANCE
Place Émilie-Gamelin
See Activation
in translation...
LA GRANDE CARICATURE CARMAGNOLESQUE DE LA BÊTISE FISCALE
Thursday, November 16 at 7 p.m., Place Émilie-Gamelin

A creation that is socially engaged, rebellious and revolutionary, a fiery blend of theatre and circus, produced by the Carmagnole collective! Premiered especially for ATSA, the troupe's work mocks the absurdity of financial realities with a childish, cartoonish style, spectacularly huge symbols, and incisive, humorous dialogue. It examines the sharp contrast between the opulent lifestyles of the privileged 1% and the day-to-day lives of the common people. Acrobatics, physical theatre, the fire arts, and children's games are all in the mix, because for the Carmagnole cast, unbridled creativity remains the best means of resistance and the most joyous way to thumb their nose to a patriarchal capitalist system they want no part of!



TROU NOIR ; LE CHŒUR EN COLÈRE by Sophie Castonguay
Duration: 25 minutes | Place Émilie-Gamelin
Friday, November 17 from 4:30 to 7 p.m.
In Trou noir; le chœur en colère, citizens gather inside a performative apparatus and chant, following a musical partition, words that beg to be read and heard. Their voices are not distant, but offer a critical proximity. The action relies on the power of the people, a force we need to learn to summon anew in the world.
Contextual artist Sophie Castonguay creates actions in the public space that question how we occupy the world. Her work has been featured in several exhibition centres across Québec, Canada and Europe. She is currently working toward a doctorate in Art Practices and Studies at UQÀM.
To find out more: http://www.sophiecastonguay.ca/
À HUMANITÉ VARIABLE :

Gala of the 21st Journées québécoises de la solidarité internationale (JQSI)
Friday at 7:30 p.m._Big tent at Place Émilie-Gamelin

As part of their À humanité variable campaign on the role of culture as a tool for political influence, the Journées québécoises de la solidarité internationale (JQSI) have elected to hold the gala for their 21st edition during the closing evening of Pas d'Radis Fiscaux : l'État d'Urgence. In a cabaret-like setting, the public will be able to enjoy artists Samian, Zuruba, Wapikoni Mobile, Boris, and Geneviève Rochette, as well as Fred Dubé and Manal Drissi, spokespersons for the 21st edition.
To find out more, visit the JQSI page.
CERTITUDES. L'ALLIANCE
Saturday, November 18_Big tent at Place Émilie-Gamelin
Performance-exhibition by transdisciplinary artist Réal Capuano and art sociologist Guy Sioui Durand
Duration: 45 min.
Imagine a canoe expedition in the pristine waters of Kébeq, with rivers, lakes, rapids, waterfalls, lining, portage, encampments, and tales around a fire. Nowadays, managed footpaths lead hikers to lookout points where they can appreciate the pure, fresh air and the beauty and the spirit of the land. But are they aware of the black gold? Can they sense the menace of the pipelines that will surely one day leak the oil they carry?
Réal Capuano's photomontage and Guy Sioui Durand 's manifesto Voir le Noir that accompanies it were first presented in the Saint-Henri neighbourhood of Tiöti'a :ke (Montreal), then in Indigenous territories, and just this past summer at the "Fenêtres qui parlent" event. Certitudes has evolved into a participative work, in part thanks to the graphic contributions of Aboriginal students. At Place Émilie-Gamelin, Certitudes will propose an Alliance of equals. The collective Kiuna will be on hand. Réal Capuano and Guy Sioui Durand will present a performance based on the work.
[ Photo : Real Capuano ]
SYNESTHÉSIAS D'HIVER
(or: What if painting and music had a conversation?)
Sunday, November 19 from 1 to 4 p.m., under the With One Voice tent, along Sainte-Catherine Sr.
A painter and a musician use brushes and instruments to create a dialogue in sound and colour. The pair have never previously collaborated. Together, they will build an aural and visual piece about tax havens.
Artistic director: Sylvie Teste
Musician: Erik West Millette
Painter: Charles Acek
Produced by Les Escales Improbables de Montréal
A co-presentation of ATSA, When Art takes Action and Les Escales Improbables
[ Photo : Christina Alonso ]
QUE FAIRE AVEC 50 $
Claude Majeau and Sophie Cabot
Saturday, November 18 from 6:30 to 8:30 p.m._Under the "With One Voice" tent along Sainte-Catherine St.
Knowing that the value of money is relative to the total of one's possessions, what does the sum of $50 represent for participants in État d'Urgence 2017? For the time it takes to make a drawing, participants are invited to share their experiences and thoughts on the matter. The drawings thus produced on the site will later be screened live on a big screen. Claude Majeau and Sophie Cabot employ a game format to begin a dialogue with passersby on the value of money in our society.
Claude Majeau and Sophie Cabot are visual artists. They develop collaborative projects with and within marginalized communities. To them, art is a means to encounter and open up to others. Their project is intended for the general public.
HIDDEN PARADISE – public rehearsal
Sunday, November 19 at 2 p.m.
Big tent at Place Émilie-Gamelin
Alix Dufresne and Marc Béland, co-creators and performers
"Nowadays, when you're waiting for a bus in -20°C weather, it's because of tax havens," claims Alain Denault. No-one else can so clearly illustrate the correlation between tax evasion, which is supported by our political institutions, and the concrete problems we face in our daily lives. At a time when the sword of austerity is regularly brandished to slash funding for already shaky social and cultural programs, it is important to be reminded that billions of dollars in potential tax revenue are lost each year and make their way back into the pockets of the wealthiest.
Alix Dufresne and Marc Béland offer a performance that not only denounces the evils of tax evasion, here and elsewhere, but that further examines our own responsibility in the matter. Their ballet, with its precise and absurd movements, underscores what is revealed during the interview, while emphasizing our condition as spectator-citizens who are too passive before the drama unfolding before us. Though we know that thieves in suits are breaking the laws that we have collectively erected to achieve justice and social equity—we can access this information online, on the radio, through books, and now on a stage—why are we still sitting in the dark and not doing anything about it? What can one show do to change all that? What is the purpose of memorizing an interview verbatim? These are the questions raised by Hidden Paradise, a reflection on the absurdity of this situation and on the roles we each play in our own way.
To find out more:
https://www.behance.net/alixdufresne-theatre
http://agencemva.com/fr/artistes/marc-beland/
INDISCRÉTIONS PUBLIQUES 2017
Sunday, November 19 from 3:30 to 5:30 p.m. at Place Émilie-Gamelin and along Sainte-Catherine St.

The Théâtre du Ricochet offers one of the many texts from its Indiscrétions publiques 2017: Patrick Allard's "L'enveloppe,", which raises the issue of corruption and collusion between private companies and the government. Realistic staging and a tone that is both engaged and humorous make the show suitable for all audiences. The brief scene is presented in the public space, and spectators hear a dialogue designed to be a reflection of the society that surrounds them. Following the performance, there is a discussion session with the audience in order to expand upon the themes raised. In case of rain, the performance will be moved indoors.

By performing its works in the public space and free of charge, in a true democratic spirit, the Théâtre du Ricochet hopes to follow in the footsteps left by ATSA over the past two decades. The company is known on the Montreal theatre scene thanks to its annual production of Indiscrétions publiques. Its mission is to encourage citizen reflection and to support access to art for all.

Creative and production team
Author – Patrick Allard
Actors – David Blais and Hugo Dulac
Artistic co-director and stage director – Frédéric Jeanrie
Artistic co-director and costume and accessories designer – Sabrina Johnson
Technical director and production manager – Clémence Lavigne



[ photo : Philippe Latour ]




---
EXHIBITIONS


RENÉ DEROUIN_Impression grand format de RAPACES C 2

At Place Émilie-Gamelin, with the following excerpt:
"My reflection on contemporary society through the observation of birds has led me to discover parallel universes without scruples, ethics or morals—a rapacious society. We gain a clearer grasp of the austerity the State would impose upon us, as though we, the citizens, were somehow guilty of the abuses of such rapaciousness. While nations are stripped of their powers and funds, a new society is born beneath our very eyes..."
Born in Montreal in 1936, multidisciplinary artist René Derouin lives in Val-David, in the Laurentians. With his wife, Jeanne Molleur, he founded the Jardins du Précambrien as well as the Symposiums internationaux d'art in situ. Through his frequent travels, he plumbs the continental identities of the Americas, from North to South. Since 1955, he has explored the pre-Colombian cultures and Mexican mural art. His research has also led him to Québec's far north. On a quest for his roots, he has pursued the notion of Americanicity, sifting through the cultural and territorial memories, examining issues of migration and interbreeding from yesteryear to the present day.
In addition to his countless exhibitions in Québec, Canada and Mexico, his remarkable works have been shown in France, the United States, Venezuela, Australia, Switzerland, Poland and Japan.
FRONTIÈRES VIRTUELLES OU RÉELLES, THÉRÈSE NADEAU

"Extracted from different periods of my practice, the art works selected for this event are derived from sketches done during the 80s and 90s. Mostly in public places, such as the Voyageur bus station and its surroundings, frequented by itinerants, who are my principle subject of inspiration.
This project bears witness to these places and people."
Born in Edmundston, New Brunswick, Thérèse Nadeau has a Bachelor of Arts from UQAM. Her practice of more than 20 years is mainly in the field of painting, with intervals in drawing, mixed techniques and installations.
She has had both solo and collective exhibits at the Maisons de la culture de Montréal, Arts Sutton and the Centre d'exposition de Repentigny, as well as a regular presence at the annual Parle-moi d'amour fundraiser for mental illness (in 2001–2003 and 2009–2017), reflecting her concern for sociocultural problems of marginality, an urban reality.
[ Photo : Thérèse Nadeau ]
See Performances

VIEWS FROM THE STREET
Produced by BAnQ in collaboration with the McCord Museum, this exhibition looks at Montreal through the eyes of homeless and at-risk individuals. Inspired by BAnQ's archival material and heritage collections, the photographic and narrative works are the result of workshops organized by BAnQ with the participation of photographer Mikaël Theimer.
In collaboration with Accueil Bonneau, La rue des Femmes, L'Itinéraire and the McCord Museum.
Thanks go out to Alain McNeil, Cindy Rose, David Curson, Daniel Hyacinthe, Ève, Franc DeGlaive/Mindmonk, Francine Léveillée, Ginette, Manon Fortier, Mostapha Glillah, Mario Alberto Reyes Zamora, Seanna Richards, Vangolet, and William Guerrero.
[ Photo : Mikael Theimer ]


THE ARTISTS OF THE SAINT-JAMES DROP-IN CENTRE
The Saint-James Drop-in Centre provides a safe, helpful environment to marginalized or homeless persons to enable them to have a rich community experience. Its mission is to be a catalyst for their members' creativity, compassion and empathy. For more than 20 years now, it offers an arts program that includes a permanent workshop. The members frequent the workshop on a daily basis, giving many of them temporary respite from the street or their solitude.
A collection of paintings, drawings and pictorial works from the workshop arts program will be on display.
MÉTISSAGES URBAINS BY EXEKO
A project featuring collaborative and inclusive artistic creations made by and for Exeko participants, guest artists, and citizens encountered in the urban space. Since 2013, twenty-three residencies have produced an array of protean, sometimes ephemeral, works. Today, works from 19 residencies can be displayed in a variety of formats: audio recordings, engravings, photographs, murals, paintings, poems, video recordings, etc. Selected works will be displayed during Pas d'Radis Fiscaux : l'État d'Urgence.
FACES OF THE ABUSED, DAVID JOHN TOVEY

Abused by oneself, abused by others or abused by a system. We all suffer in one way or the other. Why are we so afraid to talk about it, admit it, accept it or fight it?
Tovey's large mixed media art are from "My Solitude", Solo Photographic and Charcoal exhibition at The Old Diorama Arts Centre, London. Hi work covers subjects such as Addiction, Mental Health, Homelessness, Suicide and Terminal Illness.
WE ARE ALL HERE
The banner and poetry project
We Are All Here is a community-based interdisciplinary – poetry, visual art, music – art project created by Path with Art which lasted for approximately 12 months. In the spring of 2016, Path with Art students gathered weekly at the Seattle Art Museum. Together, they worked with public artist Kristen Ramirez and internationally acclaimed multi-disciplinary artist Martha Rosler, to write poems and translate those poems into visual art. The poems were inspired by the understanding that we all play a crucial role in shaping the ongoing evolution of Seattle — that We Are All Here. The result was a series of beautifully painted canvas banners that have been displayed in Occidental Park (Summer, 2016). The broader community was then challenged to also submit poems around the theme, with the winning poems created into additional banners. The poems were then used as a basis for an original composition created by more Path with Art students, led by teaching artists at the Seattle Symphony.
INVISIBLE PEOPLE
Everyone talks about social media's potential to democratize and empower those less fortunate. Mark Horvarth actually makes that happen. Mark, or @hardlynormal as the Internet knows him, is an internationally recognized activist who tells the story of the countless individuals without a voice-- those living in shelters, motels, tents, alongside streets and under highway bridges. His platform InvisiblePeople.tv is one of the most revolutionary and poignant storytelling destinations we've ever seen on the web. Mark's work is extraordinary because he not only helps solve the systemic, scaled problems of homelessness by destroying stereotypes, but he also helps singular individuals, every day.
FIVE MONTHS OF LOVE & THE MAIN ENTRANCE

Billy McGuinness is a Chicago-based artist working primarily in community-based, participatory art, with periodic digressions into performance and object making. His practice includes various long-term collaborative relationships, most notably Red Line Service, which he co-founded and co-directs with art historian and curator Rhoda Rosen, creating cultural experiences for and with Chicagoans experiencing or concerned about homelessness. McGuinness is also the founder and director of Just Art, a long-term engagement with the Cook County Jail, wherein a group of people are collectively reimagining and reshaping the carceral experience inside the largest single site pre-detention facility in the United States.
The canvas shown at Pas d'Radis Fiscaux: l'État d'Urgence was installed for five months on the entrance ramp to the dining room of a soup kitchen in the Wicker Park neighborhood of Chicago. During that time, roughly 18,000 meals were served, 800 showers were provided, and 600 bags of laundry were washed, dried and folded free of charge. Once a week, mental health outreach, drop-in case management, medical attention, and substance abuse counseling were offered.


KEYS
Red Line Service creates cultural experiences for and with Chicagoans currently experiencing and/or concerned about homelessness. Collectively, we insist and demonstrate that communal artistic and intellectual enrichment awakens imaginative possibilities in all people, encouraging them to envision, aspire to, and build alternative realities. In partnership with organizations providing direct services and those advocating for policy development, we strive to open and expand critical dialogues about poverty, social responsibility, and culture. At the same time, we strive to stimulate growth and change for all program participants, those in transition* as well as their housed counterparts, and to transform the cultural institutions that house our programs. In solidarity, we are working to reshape our society into a more connected – more loving – community of care.
*We use the word transition to affirm that homelessness is a temporary set of circumstances and not a state of being.
This piece was part of an exhibition called House (pronounced houz, the verb form of the word), originally mounted at Chicago's Weinberg Newton Gallery in the winter of 2017.
10 ANS D'URGENCE_OEUVRES CHOISIES
In 2010, ATSA created a multidisciplinary visual exhibition featuring works by over 20 artists—local, Canadian and foreign—who made original contributions to État d'Urgence during the event's run between 1998 and 2010, covering video, photography, illustration, poster art, archival film, soundtracks and installations.

We are inviting you to rediscover seven of these art pieces: Patrick Bérubé's china cabinet, Phil Allard's housebike, the paintings of Marie-Claude Pratte, Sérgio Cezar's miniature cardboard architecture (BRA), the territorial map of the artists of Cactus Montréal and P.L.A.I.S.I.I.R.S, paintings on unconventional media by the artists of the St. James Drop-in Centre and Sylvain Bouthillette, Winfred Baumann's instant housing (GER).

To know more about the original exhibition: http://atsa.qc.ca/en/10-ans-d-urgence
---
MUSIC
EMRICAL
Thursday, November 16 at 9 p.m.
Rapper and hip hop artist Emrical is known for his socially engaged words and a sound that blends folk music, electronic beats, and the traditional music of the Caribbean. Born to Haitian immigrants, he knows and is inspired by the realities faced by the children of immigrants who must struggle to survive socially, economically and politically. Emrical follows in a long line of urban artists who are trying to bring greater visibility to their art while staying true to themselves and their intent. He presents his songs in a spirit of sharing and interaction with the public, while constantly breaking through the fourth wall.
He presents us with the ramblings of a heavily indebted person who is suffering from his inability to live up to the images and expectations of the capitalist system.
To find out more: https ://emrical.bandcamp.com/
Co-presented with MUNDIAL MONTRÉAL
[ Photo : Mikael Theimer ]
NATATION

Friday, November 17 at 9 p.m.
Natation plays sweaty, dancy, and fluidly catchy I-guess-you'd-call-it-rock music that works the head, heart and hips. Their shows have a party vibe, but they aren't afraid to slow it down for a sensitive 15 minutes. With songs that borrow from lived experience and steal from imagination, there's as much to listen to as there is to hear. Natation is based in Montreal, where they live and play in English and French. They released their second EP, Dive, in the spring of 2017 and are currently perfecting the freestyle.
To find out more: http://natation.bandcamp.com
DR. NATIVO
Saturday, November 18 at 9 p.m.
Dr. Nativo is one of Central America's most exciting new talents. His music explores themes of Mayan spirituality, social justice and folk wisdom, punctuated by an explosive sound combining reggae, cumbia, hip hop, and Mayan traditional music. His first solo album, Guatemaya, will be released in 2018 on Stonetree Records.
To find out more: https://doctornativo.com
Co-presented with MUNDIAL MONTRÉAL
---
SCREENINGS
WAPIKONI MOBILE | FEATURE FILMS | SHORT FILMS |
WAPIKONI MOBILE will be present throughout the event, on Sainte-Catherine St.

Thursday the 16th - Friday the 17th : 5 to 9 p.m.
Saturday the 18th and Sunday the 19th 3 to 7 pm
Come view short films by Wapikoni Mobile and take a tour of this mobile First Nations film and music recording studio that has been criss-crossing Canada since 2004 with as its mission to help Indigenous youth develop their artistic, technical, social and professional skills.
A grassroots organization whose activities contribute to improving the overall health of Indigenous youth, Wapikoni also plays a role in propagating their voice, which is making itself heard more and more. It does this by presenting their works to different audiences in order to raise awareness not only of Aboriginal issues, but also of a rich culture that is still all too often little known.
To find out more: http://www.wapikoni.ca


Programming created in collaboration with the Montreal International Documentary Festival (RIDM) features a film each evening at 9:30 p.m. under the heated tent along Sainte-Catherine St.
LE PRIX À PAYER_November 16 at 9:30 p.m., tent along Sainte-Catherine St.
by Harold Crooks
Le Prix à payer is inspired by Brigitte Alepin's book La Crise fiscale. Offshore financing, allied with the empires of the digital economy, are perilously chipping away at the major social innovations of the 20th century: progressive taxation, the middle class, and the social security safety net.
Le Prix à payer examines how London's City bankers created, in the 1950s, a complex network of tax havens that are today hoarding out of the reach of the masses over half of the world's money supply.
The story is told by an exceptional cast of former tech and finance industry insiders who are now speaking out, as well as by dedicated journalists and advocates for tax justice. All of them fear that without solutions on an international scale, the current system will drive the Western world to its demise.
L'ÉTAT DU MONDE_November 17 at 9:30 p.m., tent along Sainte-Catherine St.
by Hubert Caron-Guay and Rodrigue Jean / Collectif Épopée
A co-presentation with RIDM
The director will be present
Montréal. Ti-Red, just out of prison, combs the neighbourhood in search of his girlfriend. Together, they panhandle. Marco and Rob get high and turn tricks for a few dollars. Daguy, an itinerant artist, waxes philosophical inside his tent and visits a friend who is barely better off. The camera follows all of their movements through the city and during their drug trips–the two often intertwine. Day and night, the camera captures these characters in an edgy, up-close and personal way. The film conveys all of the grit and energy of this world "on the fringes." Blending cinéma vérité and staged performance, this film comprised of dialogue and wanderings is part of the epopee.me project of collective cinema that involves people in difficulty. On screen, their presence and their humanity are undeniable. A raw, impactful retort to all of life's exclusions.
(Alessia Bottani)
POUDING CHÔMEUR_November 18 at 9:30 p.m., tent along Sainte-Catherine St.
by Bruno Chouinard
A co-presentation with RIDM
The director will be present.
Through the reflections of welfare recipients in Montreal and across the province, this documentary examines the tremendous difficulty welfare recipients experience in getting their employment insurance cheques from the Government of Canada following the reform instituted January 1, 2013. The film follows Maryse, Stéphane, Colombe, Ms. Cécile and Mr. Bérubé, who are all accused by Service Canada of being fraudulent, lazy, and abusers of the system. Sylvie Therrien, a former federal inspector, tells of the subterfuges employed by government inspectors to corner welfare recipients. An insightful look at the situation faced by welfare recipients, people without a voice who are caught in a downward spiral in what is a systematic denial of basic justice.
AUTRUI_November 19 at 9:30 p.m., tent along Sainte-Catherine St.
by Micheline Lanctôt
With her job at a polling firm where her talents are underutilized and a father who dreams of accepting a job offer outside the country, Lucie feels rather lonely in her small Montreal apartment. On her walk back home, she always crosses paths with the same homeless man. One winter evening, seeing he is injured, she takes it upon herself to take him into her apartment. Being drunk, the man makes no great impression on Lucie. Yet he develops an affection for her warm and comforting space. Over time and after numerous such encounters, an ambiguous relationship develops between these two people.
Synopsis © Cinoche.com
ON S'EN TAIN
On the sidewalk along Sainte-Catherine St., continuous
On S'en Tain is an engaging movie about tax havens. Through a two-way mirror, you will see on one side the social elite, composed of various businessmen, and on the other side, the poor and the middle class. The film is an allegory about how banking secrecy is empowering a select club of people. By being aware of what is happening, these individuals are keeping the rest of the population in an environment of oppression that is compounded by severe budget cuts and restrictions.
Duration: 2 min,, running in a loop
Thibaut Quinchon – Screenplay
Renaud Fontaine Deniger – Artistic direction / Set design
Élodie Paquette – Artistic direction / Costumes
Anne-Claire Antoine – Production / Direction
Thomas Leblanc Murray – Lead operator
Hippolyte Vendra – Camera assistant / Enforcer
Emmanuel Grangé – Lighting / Camera assistant
To find out more:
Ulule: https://fr.ulule.com/on-sen-tain/
Facebook: https://www.facebook.com/onsentain/
JE NE SAVAIS PAS QUE JE SAVAIS_ Sunday, November 19 at 4:30 p.m.

A short film by Alexandre Gingras
See Get informed!
---
WORKSHOPS


IDACTION - EXEKO
Time to be confirmed

Since 2006, idAction has provided a thoughtful program of social analysis and citizen participation. It is a citizen's tool box for better understanding society and for getting the tools needed to better express ourselves. It pursues numerous objectives:
- To develop a critical eye for analyzing society
- To impart intellectual self-defense, to be able to detect manipulative discourse
- To take positive action in society, on both the personal and collective level

idAction's workshops are held in Aboriginal communities, in schools, in safe houses, or simply on the streets in a mobile version.
idAction workshops are based on the assumption that all people are equally intelligent. This means opening up a dialogue between equals. Exeko's strategy is built on five pillars:
- Intellectual mediation
- Content that is presented in layman's terms, accessible and interdisciplinary
- An interactive approach
- An open teaching approach, co-designed with the participants... and a critical eye, at all times!

[ Photo : Mikael Theimer ]


Histoire collective du parc Émilie-Gamelin
November 16 from 6 to 9 p.m.


November 17 from 2 to 5 p.m.

A workshop for social mediation centered around BAnQ – Old Montreal's archive collections on the history of Émilie-Gamelin park. Come discover 100 years of history of the neighbourhood through photos and old maps and drawings, and share your knowledge of the recent development (spanning the past 40 years) of the park. A "vox pop" booth (with audio and video) will be available to those who wish to participate in the creation of a "new archive" that documents an oral history of the park. This collective history will later be screened by BAnQ as a video on various communication platforms.

Marie-Pierre Gadoua, social mediation project manager, BAnQ
Daniel Filion, documentation technician, BAnQ archives centre – Old Montreal
Hyacinthe Munger, documentation technician, BAnQ archives centre – Old Montreal
Mikaël Theimer, photographer


[ Photo : Gabor Szilasi ]
---
Get informed


---
THE EXCHANGE BANK: OUR RECEPTION TENT LOCATED NEAR THE "RADIS FISCAL"!
Several organizations are on hand to answer your questions and provide information on upcoming actions you can undertake with them. A reading area with books you can consult, including a number of books by publishing house Éco Société, will be at your disposal.
Oxfam-Québec and the collective Échec aux Paradis Fiscaux

Thursday, November 16 from 5 to 10 p.m.
Saturday, November 18 from 1 to 5 p.m., then at the conference by Alain Deneault, Saturday at 4 p.m.
To know more:
Collectif Échec aux paradis fiscaux http://www.echecparadisfiscaux.ca/
Facebook : https://www.facebook.com/echecparadisfiscaux.ca/

Oxfam-Québec: oxfam.qc.ca
Facebook: https://www.facebook.com/oxfamquebec/
Twitter: https://twitter.com/oxfamquebec
Association québécoise des organismes de coopération internationale (AQOCI)
Organizer of the Journées québécoises de la solidarité internationale (JQSI)
Saturday, November 17_Hours to be confirmed
A currency for Montreal – To be launched this fall. Come be among the first to learn about it! Time to be confirmed.
---
CARTE BLANCHE to ALAIN DENEAULT_SATURDAY, NOVEMBER 18 at 4 p.m._under the WITH ONE VOICE tent along Sainte-Catherine St.
Alain Deneault, Ph.D has authored numerous essays, among which Noir Canada, Offshore, Faire l'économie de la haine, Paradis sous terre, "Gouvernance", Paradis fiscaux : la filière ccanadienne, Médiocratie, Une escroquerie légalisée and De quoi Total est-elle la somme? Since 2016, he has been program director at the Collège International de Philosophie in Paris.
The conference will be in french_ English questions are possible.
La lutte aux paradis fiscaux : une question de choix politiques
Alors que nos gouvernements prétendent ne plus avoir d'argent pour financer les services publics comme la santé et l'éducation, tous les ans les États perdent des milliards de dollars d'impôt dans les paradis fiscaux. Il est temps de s'attaquer au cœur du problème : nos choix politiques.
Conférencier : Alain Deneault, philosophe et auteur de plusieurs ouvrages sur les paradis fiscaux.
Animation : Érik Bouchard-Boulianne, économiste à la CSQ et ancien coordonnateur du collectif Échec aux paradis fiscaux.
---
DISCUSSION with Alex Gingras following the screening of JE NE SAVAIS PAS QUE JE SAVAIS
Sunday, Novembre 19_4:30 pm
This project examines the creative process behind the political mashup video, which consists of editing and reframing popular media in order to create an audiovisual work that is critical of tax havens. The input materials for the project, dubbed "offshore esthetic productions for the masses" (Deneault, 2010), consist of over 100 excerpts from films, novels and comic strips that have all weaved tax havens into their plot lines. These excerpts have been copied, cut, pasted, transformed and rearranged in order to form a political statement capable of making citizens aware of the issues surrounding offshore finance.