STORYTELLING

Isabelle St-Pierre
Arleen Thibault
Thierry Pardo
Bernard Grondin
Jocelyn Bérubé
Éric Michaud
Isabelle St-Pierre, animation and coordination of open-mic sessions
November 21 to 25 at 10:30 PM




Photo : Martin Savoie Isabelle started out doing poetry slams and cabaret. She happened upon storytelling rather by chance, during an open-mic evening back in 2002. Since then, she has spun her yarns throughout Quebec and France, at festivals, in taverns, cafés, chapels... She speaks and writes, a city girl at heart, passionate about history and cooking, her stories politically committed. She quickly became a follower of Montreal's new slam scene of 2006, and, with her vivid, urban and tart brand of poetry, participated in various events, among them monthly soirées, the 10th anniversary of iconic radio show Macadam Tribus (on Radio-Canada's Première Chaîne), and Bienvenue à Slam Cité / Adb Al Malik (as part of the Francofolies). A budding producer, she has spearheaded the storytelling and open-mic portion of État d'Urgence for the past three editions.

Arleen Thibault
Wednesday November 21 at 10 PM


A storyteller of the new generation, Arleen Thibault has since 2000 participated in numerous storytelling festivals in Quebec (in Natashquan, Quebec City, Tadoussac, Trois-Pistoles, Hull, Montreal, the Eastern Townships, the Magdalen Islands and other venues) and outside the country too, notably at the Maison du Québec in St-Malo, France. With an unfettered imagination and poetic tongue, exploring both traditional and urban sensitivities, she reaches into the confines of your wildest thoughts to express what was, what is, and what should never be.

Thierry Pardo (France)
Thursday November 22 at 10 PM


Thierry draws inspiration for his tales, and sometimes his songs, from a kind of double-bottomed drawer hidden under the counter of some crusty neighbourhood watering hole. And since he seeks it in the middle of the night with his fingertips outstretched, grasping, he occasionally comes up with a bad pun or gaffes not quite fully owned up to. Later on, as the evening comes to a close, he is more likely than not to be found leaning on that same counter, trying to stifle his conscience, raising a glass to irony or bedecked in absurdity. Regardless of what he pulls out of his secret drawer for this particular occasion, as the evening wears on, he will, true to form, let drop a killer phrase or an all-encompassing hand gesture. You may well leave with the strange sensation of having taken in at too close quarters that unmistakeable whiff of mould that seems to permeate double-bottomed drawers.
Bernard Grondin
Friday November 23 at 10 PM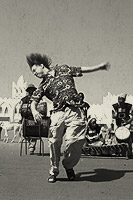 After studying dance, mime, theatre and circus, and gaining experience as an actor, director and puppeteer, Bernard Grondin chose to pursue the career of storyteller. With verve, humour and affection, he tells tales of Quebec and of a host of other lands. He draws upon the stories the elders of those nations have handed down and shapes them through his own idiosyncratic lens. Critic André Ducharme (Radio-Canada, Montreal) hailed him as the "Revelation of 2002." Others have called him "a prodigious storyteller, an unhinged clown on acid, a sensitive, flamboyant poet, a talent worth discovering." He performs in France, Senegal, Burkina-Faso, New Caledonia... basically, wherever his language is understood.
Jocelyn Bérubé
Saturday November 24 at 10 PM



A storyteller for 30 years now, Jocelyn says of his art form: "Perhaps people are drawn to it because of its conviviality and warmth; perhaps they see it as a form of theatre that they currently don't find elsewhere, that speaks of a humanity that says we have not yet become robots." His passion for storytelling and music lead him to undertake, in 1972, a career as storyteller and fiddler, a career that has seen him travel throughout Quebec, Canada and the United States. He has on numerous occasions been a guest performer at festivals and special events in France and in Africa. His stories and music have been captured on two recordings.
Éric Michaud
Sunday November 25 at 10 PM


Better known to the world by his sobriquet Ubert Sanspré, Eric is a self-taught teller of History and keeper of Tradition. His repartee is his accomplice: he adapts to any situation and establishes an apropos ambiance. His tales are always tinged with humour and use History—with which Eric likes to take liberties— as a backdrop. He has performed on various stages: Le Sergent recruteur, Les Mardis-Gras, La Pierre Angulaire, the Nouvelle-France festivities, the Festival Interculturel du conte du Québec, the Festival de conte de Bouche à Oreille, the Auberge du Dragon Rouge, at schools and librairies and many other venues.This evening, he invites you to let him whisk you off into his own special universe.