FRONTLINE
In the ATSA Tent
24h/24h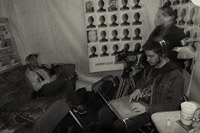 Photo : Martin Savoie



Photo : Baptiste Fhont Darcy



Photo : Martin Savoie État d'Urgence tends to urgent needs during the duration of the event.

In 2006, État d'Urgence provided $55,000 worth of warm clothing and blankets, 3,500 meals and 5,000 snacks, and care to 52 people, registered 75 new members to homelessnation.org, helped some 600 individuals find a peaceful night's sleep, soothed many souls... and made numerous friends.

All these services are possible thanks to a team of extraordinary volunteers and the tireless support of our partners:
Médecins du Monde
Nov. 21–25, from 2–10 P.M.
Medical care for those with limited access to it...

Homeless Nation
Nov. 21–25, from 10 A.M. to 11 P.M.
HomelessNation.org, the Web site by and for Canada's street community

Clothing donations
Nov. 21–25, from 8 A.M. to midnight
Warm clothing for men and women in need.
Many thanks to Village des Valeurs, the Salvation Army and our numerous private donors

Canteen open round the clock
Special thanks to the food banks and our many private donors

Sleeping quarters for over 150 people
Nov. 21–25, from 10 PM to 8 PM


Service providers:

Stella Wednesday, Nov.21 from 8 P.M. to 2 A.M.
En Marge Thursday, Nov. 22 from 6 P.M. to 2 A.M.
Premier Arrêt Friday, Nov. 23 from 6 P.M. to midnight
Anonyme Saturday, Nov. 24 from 6 P.M. to 2 A.M.
Cactus Sunday, Nov.25 from 8 P.M. to 8 A.M.
Photo : Martin Savoie