OPENING NIGHT
Wednesday, November 21 at 7 PM
THE LAUNCH OF ÉTAT D'URGENCE!
Welcome one and all!


Screening of Dernier recours
a movie by Mohammed Lotfi
and Les incendiaires
by André Fournelle
Wednesday, November 21 at 7 PM
Opening show
Les feux impatients
Wednesday, November 21 at 7:30 PM
Orchestrated by André Pappathomas and André Fournelle

Fourteen small houses, wandering about in a world of shock absorbers, oil cans, chamber pots and sinks...
Taut strings vibrating to the chilly resonance of faraway voices use the flesh of grasping digits...
And yet, at any moment, shelter calls out to this multitude of men and women who seek their runaway homes.

André Pappathomas: composer, director
Maria Super-Métal: percussion. 14 young women playing recycled objects.
Rachel Burman: cello
Ensemble Mruta Mertsi: 16-voice mixed choir.

André Pappathomas is a musician and director.
In 1993, he founded the Ensemble Mruta Mertsi, and is the composer of their repertoire.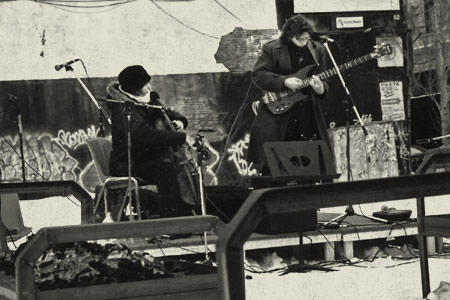 Les feux impatients