FRANÇOIS AVARD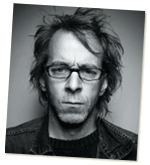 A word from our associate artist,
author François Avard,
screenwriter for the series Les Bougon
To mark the 60th anniversary of the Universal Declaration of Human Rights, François Avard, spokesperson for the 10th edition of État d'Urgence, have been placed under house arrest and reduced to silence. In solidarity with all those whose fundamental rights have been violated, I shall hold my tongue time and again for the duration of the artistic "manifestival." To add further insult to this forced mutism, I intend to torture myself by watching (LCN news anchor) Denis Lévesque each and every evening.

One would think that a spokesperson possessing neither the right to speak nor the right to leave his home seems rather out of the ordinary. Yet elsewhere in the world, such a situation is, quite to the contrary, banal. Torture, slavery, forced wedlock, arbitrary arrest, rape, lack of safety and security, religiously or racially motivated political persecution, censorship, malnourishment, homelessness, illiteracy... The common ideal all peoples should be striving for is a goal that seems to have disappeared from the agendas of the world's governments.

No need to look too far to observe the violation of rights. Here in Montreal itself, the presumption of guilt reigns over all homeless individuals. In order to make the public aware of this reality, I shall take part, along with the homeless, in handing out socially acceptable tickets to anyone disturbing the public order, however well-dressed that person might be. Inequality before the law, equality before injustice!
Through their isolation, the homeless are reduced to silence.

The État d'Urgence manifestival enables them to make some noise as a cohesive segment of society. Come meet these individuals and discover what solidary art is all about!


COME ONE, COME ALL TO THE OPENING CEREMONY — BRING YOUR WOODEN SPOONS AND SAUCEPANS AND MAKE NOISE TO THE RHYTHM OF THE KUMPAN'IA PERCUSSION ENSEMBLE!


Also featured, speeches by Mayor of Montreal Gérald Tremblay, Béatrice Vaugrante, Director General of Amnesty International Canada's francophone branch, and ATSA.
--
My house arrest is tied to a political demand, which is supported by the RAPSIM ( Réseau d'Aide aux personnes seules et itinérantes de Montréal) and which I shall reveal in a video capsule during the opening ceremony of ÉTAT D'URGENCE this coming November 26 at 7:00 P.M.
You can support it too by writing to Claude Dauphin, Montreal Executive Committee member responsible for public security.

cdauphin@ville.montreal.qc.ca
--
I have also undertaken to keep a daily journal and I invite you to read my thoughts during my confinement...